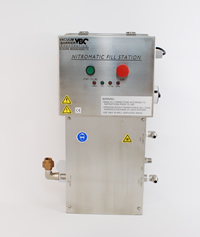 Woburn, MA – April 2017 - Vacuum Barrier is proud to launch their new and improved NITROMATIC Dewar Fill Station that provides a true liquid nitrogen fill at a maximum feed pressure 150 psig.
The NITROMATIC is designed to fill a Dewar with liquid nitrogen from a larger bulk system or portable tank and can be installed indoor or out. The system allows for unattended filling with automatic shut off to eliminate liquid nitrogen waste and is equipped with a safety timeout feature that can be set for 30, 60, 90 or 120 minutes.
Vacuum Barrier Corporation has designed, engineered and manufactured vacuum-jacketed liquid nitrogen dosing, handling and transfer equipment to a wide variety of industries since 1958. For more information on how Vacuum Barrier can assist you with your liquid nitrogen handling needs, please contact them directly at 781-933-3570 or visit their web site at www.vacuumbarrier.com.