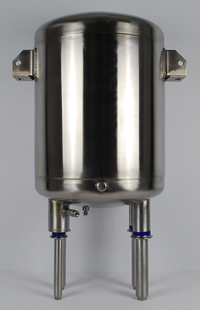 Woburn, MA – May 2017 - Vacuum Barrier Corporation introduces our new simplified liquid/vapor phase separator, ideal for lab scale MBE applications where low pressure automatic liquid nitrogen circulation is required.
The simplified phase separator is designed with passive controls and ports a feed and return circuit. Constructed of stainless steel, entirely vacuum jacketed for efficiency and combined with Vacuum Barrier's SEMIFLEX®/Triax liquid nitrogen piping providing safe, automatic circulation using portable LN2 Dewars.
Since 1958, Vacuum Barrier has established itself as the leader in liquid nitrogen piping, dosing and handling systems by continually refining our equipment to meet a variety of industry challenges. Contact us to discuss our complete line of liquid nitrogen products.