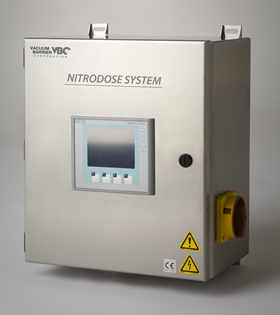 Vacuum Barrier Corporation is pleased to announce their new 4 year warranty on all vacuum integrity designed liquid nitrogen dosing systems.
All Vacuum Barrier's NITRODOSE® liquid nitrogen dosing systems, manufactured in their Woburn, MA facility, are constructed from the highest quality stainless steel and custom components by highly experienced cryogenic craftsmen.
The complete line of NITRODOSE® liquid nitrogen dosing systems addresses all line speeds and applications with the greatest reliability, accuracy and consistency.
Vacuum Barrier Corporation, the leader in liquid nitrogen handling equipment since 1958, designs, engineers and manufacturers vacuum jacketed liquid nitrogen dosing and piping equipment for a variety of industries. For more information on how they can assist you with your liquid nitrogen handling needs please contact them at 1-781-933-3570 or visit their web site at www.vacuumbarrier.com.