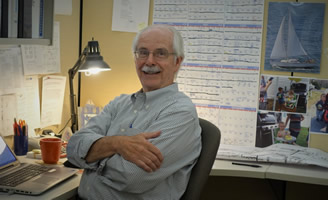 With great appreciation for his years of service Vacuum Barrier announces the retirement of Chuck McHugh, Senior Application Engineer.
Chuck began his professional career with Vacuum Barrier as a part-time employee, while attending college and accepted a full-time position within the engineering department as a Design Draftsman in 1980.
One year later, Chuck was asked to join the sales department as the Marketing Administrator under the leadership of Len Gardner.  Chuck worked closely with outside sales territories, engineering houses and mechanical contractors to coordinate all sales activities. 
Chuck left VBC in 1987 to pursue other opportunities and rejoined the team in 1998 as an Application Engineer and was promoted to Senior Application Engineer.  When asked why he left and why he came back Chuck responded, "I needed to learn what I was capable of and once I had, I realized that Vacuum Barrier is where I wanted to be."
Congratulations Chuck, a great salesman, designer, project manager, mentor and integral part of the Vacuum Barrier team.  We wish you and Karen all the best in your retirement.